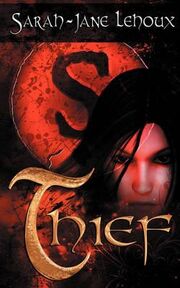 Thief is the first book in Sarah-Jane Lehoux's Sevy series. It follows the tale of a girl named Sevy and her life, filled with trials and tribulations. Mundania Press released this book on May 25th, 2010.
In the crumbling city of Eloria, there is one indisputable fact: everyone has a price. Protestations of morality and better judgment have little meaning when confronted with the chance to obtain the unobtainable. The only question remaining is just how much a person is willing to sacrifice in order to win their heart's desire. Sevy has always been a quick study in the wicked ways of Eloria. She has no qualms about taking what she wants, and when the love of her life is mysteriously murdered, Sevy will stop at nothing to get him back. Elvish black magic, necromancy and demonic pacts are of little consequence if it means she can once again have her beloved at her side. But is she willing to murder her only friend to get the job done?
Sarah-Jane Lehoux has always had a passion for storytelling. From grade school tales of cannibalistic ghosts, to teenaged conversations with God, to her rebellion against adulthood with fantasy kingdoms and fairy magic, she has attempted to share her love of the quirky and unconventional with her readers. She currently resides in Southern Ontario with her husband and her horde of Machiavellian cats. In addition to her own writing, Sarah-Jane works as an editor and freelance cover artist.
Goodreads page-http://www.goodreads.com/book/show/8301159-thief
Invisible Authors Society's Review page-http://the-invisible-authors-society.wikia.com/wiki/Review:_Thief
Sarah-Jane Lehoux's webpage-http://www.sarah-janelehoux.com/